Excerpts from the Book
Mind Your Business, page 57
"I was frustrated by the slow pace of progress, but I could empathize with the hesitation many families faced. They understood the investment in biogas would provide them with clean, low-cost energy that would enable them to save money in the long run – they even knew of neighbors who had made the investment a decade earlier and been very happy – but the cost of the initial investment scared them away." The persistence required and timeframe for acceptance defied short-term profit making. "I was convinced that momentum would eventually build, even if it took a very long time," Naveen [Lakshmipathy] recalls.
A Sanitation Awakening, pages 64-65
"There is a humility and wonder that comes with wearing your struggles on your sleeve — humility when you realize it doesn't matter how smart you are if you can't make a human connection, and a wonder when you realize how much people are willing to invest in you even before they have proof that you're a person worth investing in." - Sowmya Somnath
Beyond Relief, page 11
Shezeen Suleman's project was to help ensure the availability of safe and adequate drinking water in Ludiya and surrounding villages. "I brought my thousand page hydrology book from college thinking it would be the best resource I had, and it was utterly useless. I had to re-learn how to learn," she remembers. Starting with what she describes as "a thousand cups of chai" with people across the area, Shezeen learned the value of the knowledge that does not always appear in textbooks or Western universities.
Innovations in Social Change, page 98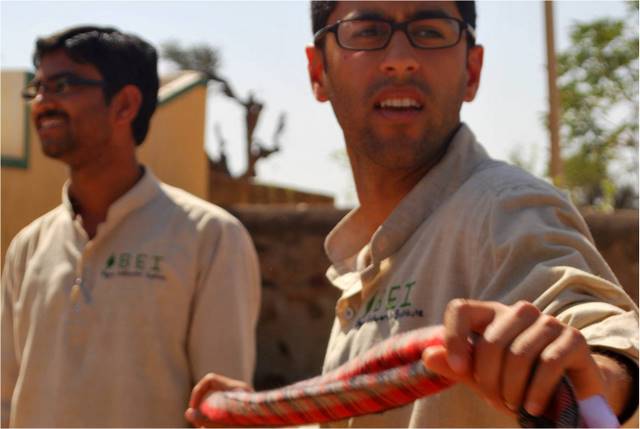 "On a personal level, I have learned that struggle is the way the universe pushes us to grow. When I feel challenged, I know that the universe is pushing me to grow and that the answer to overcoming my challenge and feeling happy is hidden in the questions that arise from my struggle." - Sahil Chaudry
Service for the Soul, page 112
"Looking back, one of the greatest lessons I have learned is to hold nothing back and trust the process. A part of this trust is the realization that just because you cannot see the change you are looking for does not mean it is not there. In a place where everything is so unfamiliar, why would change be so easily recognizable?" - Gaurav Madan
Obtain a Copy
Journeys in Service is available in both PDF and printed copies. We hope that the book inspires action, provokes thought and encourages reflection around community-based development, service and learning.
Click here to download a PDF of Journeys in Service.
To request printed copies of Journeys in Service, email us at book@indicorps.org.